FIRST DATA FD130
Compact convenience meets high-speed, full functionality.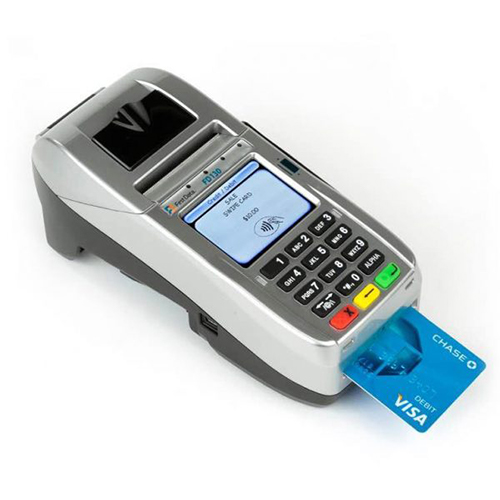 The FD130 is exceptionally easy to install and connects via IP, dial-up modem or WiFi. It's ideal for retail businesses, restaurants, and other professional services that have limited space or want to save on equipment costs, but need some of the key functions of a POS system. The FD130 is an all-in-one payment solution: EMV chip, contactless and MSR card readers facilitate high-speed, secure processing no matter how the customer wants to pay. An internally-encrypted PIN pad eliminates the need for a plug-in (but if you do prefer a plug-in PIN pad, the FD30 is your go-to).
Accept all major credit and debit card brands, gift cards, EBT cards, and even checks. You can process checks using First Data's TeleCheck Electronic Check Acceptance solution, a compatible add-on. This powerhouse terminal packs a lot of capabilities into a compact build, and supports multi-app integration.
Supports Address Verification Service (AVS)
Color touch screen (320 x 240 pixels)
Integrated, 2.25" wide thermal printer that prints at 15 lines per second—sure to keep your line moving quickly!
Processing speeds are fast, with 400 MHz, 32-bit processing (ARM9 32-bit CPU core)
15 standard soft keys, plus the keys virtually simulated on the touch screen
Everyday functions made easy through one-touch features
Dynamic Currency Conversion (DCC) allows you to accept different currencies if needed
64 MB RAM standard memory
Three USB ports
Attach the optional PIN shield for added privacy for customers entering PINs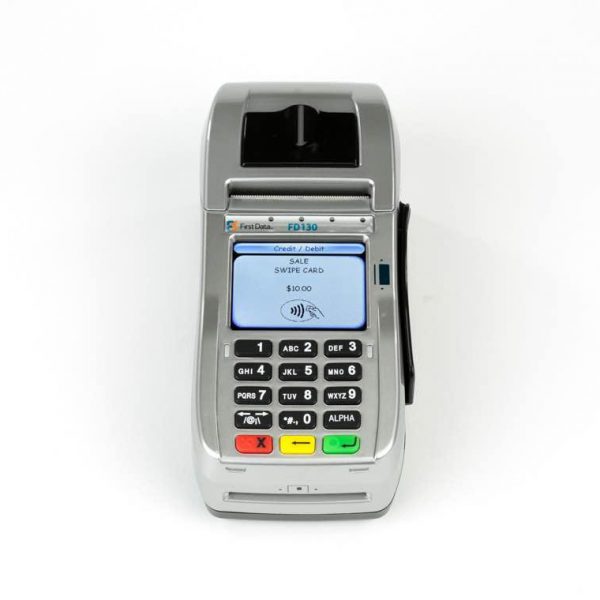 FIRST DATA FD410-DW
Wireless and ready to move with your mobile business.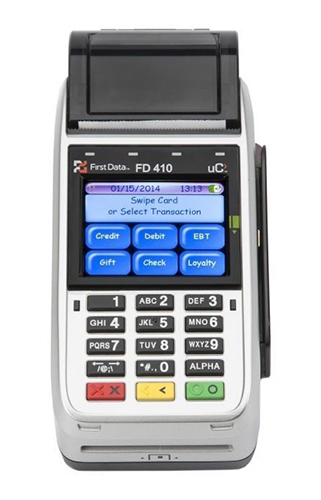 This wireless handheld terminal is perfect for food trucks, event booths, transportation services, home repair services, and any merchant that needs to accept payments in varying locations. A compact build makes bringing your business on the road convenient and clutter-free. Its "store and forward" capability lets you accept payments with no connection, then authorize them later when you have a signal. This is particularly useful to save on rates since you don't have to key them in later by phone.
Take advantage of wireless downloads wherever you are and a touch screen for ease of use. Advanced security technology to boot, the FD410-DW is a reliable, proven processing solution for merchants processing with First Data.
Accept credit, debit, gift cards and EBT cards
Process checks and turn them into electronic checks with First Data's add-on TeleCheck Electronic Check Acceptance solution
64 MB RAM standard memory, enough to support multiple apps
Uses 3G networks to connect wirelessly
Integrated 2.25" thermal printer that prints at 15 lines per second
Optional car charger for fast-paced mobile businesses
Internally-encrypted PIN pad and optional PIN shield (shown here)
Color touch screen (320 x 240 pixels)
Three USB ports
Supports Address Verification Service (AVS)