INGENICO iCT220 CL CREDIT CARD TERMINAL
Small but mighty, this terminal can handle fast-paced, high volume retail businesses.
This lightweight, dual-communication credit card terminal is suitable for fixed location merchants. It connects via Ethernet or phone line to process EMV chip, NFC and magnetic stripe payments. The internally-encrypted PIN pad is PCI PTS certified and comes with an optional PIN shield to further protect customer privacy. The slim, functional design makes for easy handling and fast-paced everyday use—high transaction volumes are no problem.
The Ingenico iCT220 CL works as a standalone terminal, or connects to a POS system. But don't let its small size fool you; this high-tech card reader can handle even the busiest retail stores, thanks to its intuitive payment prompts, modern design and built-in security. And, it saves you money on infrastructure costs by packing POS power into a portable device.
It comes in two models: the iCT220 CL accepts EMV chip, NFC and magnetic stripe payments, while the iCT220 accepts EMV chip and magnetic stripes only. They share all the same specs otherwise.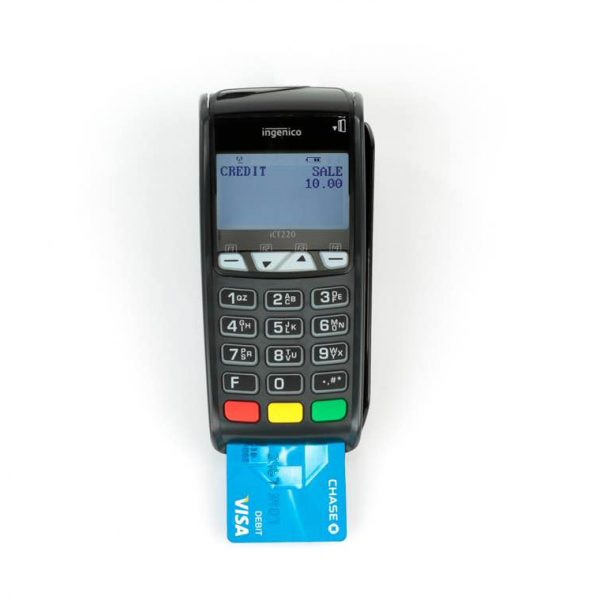 2.7" screen with black and white display (128 x 64 pixels)
Dimensions: 7.28" x 3.26" x 2.48"
Weight: 11.46 oz.
Can operate in 41° F to 113° F; storage temperature range is 4° F to 131° F
15 backlit standard keys and 4 backlit function keys
Processor: ARM 9 and ARM 7
Memory: 32 RAM/128 Flash
Integrated thermal printer that prints 18 lines per second
Paper roll (width/diameter): 2.3" x 1.6"
Uses Ingenico's Telium 2 operating system
Supports tip adjustment and EBT card acceptance