Self-Service Merchant Accounts
Unattended payment terminals are becoming fixtures in the mainstream of the modern marketplace, and the returns on investment are paying off for businesses of all industries.  
In an age of advanced technology, convenience and self-service, businesses are increasing self-checkout options. The unattended payment terminal formerly emblematic of gas stations has adapted and become a popular landmark in parking lots, grocery stores, restaurants, salons, airports, malls, hotels and many other establishments that accept card-present transactions.
The framework of the self-service terminals we offer are designed with maximum security—EMV chip technology, compliance with the latest PCI standards, leading-edge data encryption and tokenization, and customized fraud-preventive features to suit your specific sales model. Let your payment solution do the heavy lifting and seamlessly accept credit, debit and mobile payments in an unattended environment with the latest terminal equipment and software.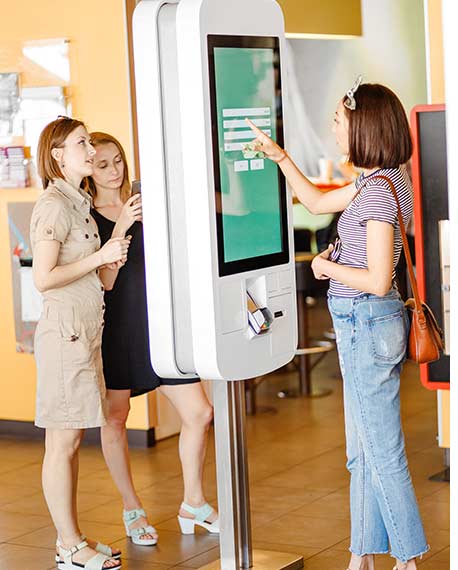 Kiosk Payment Benefits
Fewer cashiers are needed, cutting down on staffing and employee training expenses
Increased checkout speed. Having a self-service kiosk in addition to a cashier-attended checkout gives customers more options and reduces long lines. While some customers prefer a live cashier, others can bypass to the self-checkout lane
Customer convenience. Particularly when it comes to parking and restaurants, kiosks make the payment process fast and simple for customers
Kiosks can be managed remotely and completely integrated with your central POS system
Increased accuracy—the margin for cashier error is eliminated
Easily programmable to cross-sell, upsell and perform other customized functions as the buyer checks out
Durable equipment designed for the appropriate environment, indoors or out
Parking lot kiosks integrate with time tracking software, automating the process of charging your customers down to the minute rather than having to round to the nearest hour, common for parking lots and garages with live attendants
High Risk Factors
When merchants pose financial risk to financial institutions who partner with them, merchant service providers (MSPs) typically charge higher transaction rates. Because they are essentially serving as financial guarantors for merchants if they experience chargebacks, fraud or other losses they can't afford to recoup, merchant service providers determine transaction rates based on the degree of risk the merchant poses.
Risk factors they screen include credit and bankruptcy histories, chargeback ratios, payment methods (card-present vs. card-not-present), industry regulation abidance and more. When red flags come up during the screening process, MSPs charge higher rates to offset their risk and create a buffer to absorb potential loss. The risk factor that stands out for self-service payment terminals are payment disputes that are arduous to disprove. Both legitimate disputes and friendly fraud often translate to chargebacks due to the unattended environment. Theft is also an issue for businesses. Our goal is to offset risk factors with the right tools in order to offer you with the lowest rate possible. In fact, our low rate guarantee ensures you're getting the lowest rate of any verified provider.
Whether you're looking for a self-service option for your parking lot or a whole network of kiosks for your superstore, we provide fast and reliable payment solutions that meet your needs, comprehensive integration support and an in-house chargeback team devoted to safeguarding your business. With a self-service merchant account from BankCard USA, you don't have to settle for exorbitant rates, hidden fees and slow funding.