Gas Station Merchant Accounts
Pump money into your business with merchant services specially designed for the fuel industry. 
Pay-at-the-pump credit card processing connects wireless terminals at each pump of a gas station to a central in-store POS system that can also accept non-fuel purchases. The benefits of this setup are security and convenience. The POS terminals are linked to Automated Fuel Dispensers (AFDs) that let customers see how much they're spending as they fill their tanks. Customers don't have to venture far from their vehicles when they stop to get gas or wait in line to pay. They've come to expect the quick self-service.
One POS System, Multiple Secure Service Points
Merchants benefit from PCI and EMV-compatible payment systems specifically made for the fuel industry. While the EMV liability shift for the majority of merchants took place in 2015, 2017 was the deadline for AFDs and it was later postponed to October 1, 2020 due to the unique challenges of upgrading pay-at-the-pump infrastructure. So, if your pump terminals aren't yet equipped with EMV (a project that sometimes involves digging into concrete), there are other safeguards in place to prevent fraud in the meantime.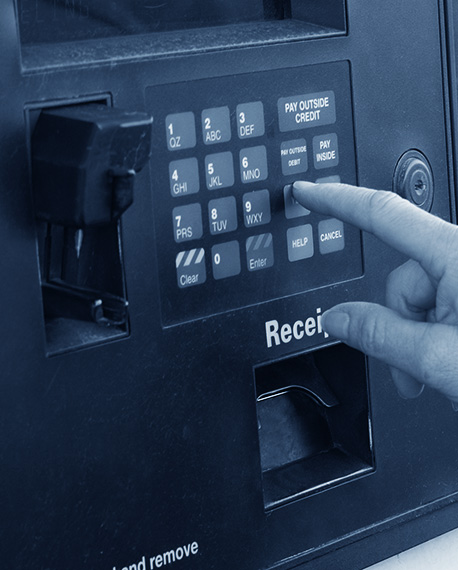 Pay-at-the-pump terminals use an address verification system (AVS) to confirm a cardholder's billing zip code for credit transactions and verify PINs for debit transactions before authorizing payments. Point-to-point encryption (P2PE) is used to protect sensitive credit card information as it moves through the authorization process. The Visa Transaction Advisor (VTA) is another tool to combat AFD fraud. It measures the risk of transactions based on industry fraud trends, requires in-store payment for seemingly risky transactions and declines the most suspicious attempts. These extra security techniques are necessary because fraudsters have a history of exploiting unattended AFDs.
All in all, POS systems for gas stations are designed to lower operating costs, prevent fraud and support seamless high-volume sales. They also accept B2B commercial card payments and fleet cards. All of these features can be controlled from a single interface in the store.
What is a Fleet Card?
A fleet is two or more vehicles owned or leased by a business rather than an individual. Typical examples of fleets are taxi companies, police departments and traveling merchants. A fleet card is a payment card drivers can use for gas and other resources at the owner's discretion. The owner or manager can see real-time spending reports, set spending limits, temporarily freeze the account and restrict locations where the card can be used.
These limitations protect business owners from employee overspending and fraudulent activity if the card is lost or stolen. Fleet card transactions are advantageous for the business because they're processed with enhanced data (extra details like odometer reading, type of service, item quantity and more). Enhanced data transactions qualify for lower rates than traditional consumer card payments, so accepting them not only maximizes security, but also saves your business money.
Gas stations ranging from mom-and-pop convenience stores to travel plazas benefit from our innovative products and services. Contact us today for more information about how BankCard USA can help fuel your business.
For more information about fuel industry best practices, you can find a specific guide on Visa's website.