POS Evolution to the Cloud
What is the cloud, anyway? And how does it relate to my business?
Many payment systems have migrated to software as a service (SaaS) technology. Rather than host in-house hardware and software, businesses can handle transactions through an offsite network of servers collectively known as "the cloud." The company pays for a private cloud space for encrypted payment data and other resources to avoid storing anything on its own servers. Authorized users can accept payments from any location with a secure internet connection and the cloud database updates in real time. It's particularly useful for chains because it centralizes resources accessible from smartphones, tablets, computers and other internet-enabled devices.
Increase Efficiency
Cloud-based POS software offers convenience and flexibility. Since there's little hardware involved, depreciation and administrative costs decrease. The system can initiate its own software updates and generate real-time reports ranging from customer metrics to sales statistics. Merchants only pay for the space and functions they use, so they can quickly shrink or expand systems as needed, and likewise, there's no chance of running out of storage space. A common example is the cloud-based Clover point of sale product line. The Payment Application Data Security Standard (PA DSS) keeps transaction information safe from fraud while team members collaborate from different locations. Other benefits include:
Inventory control across multiple locations
In-store, online and mobile processing linked to a single platform
Chargeback protection like automated proofs of payment in response to retrieval requests
PCI compliance is the responsibility of the software supplier, not the business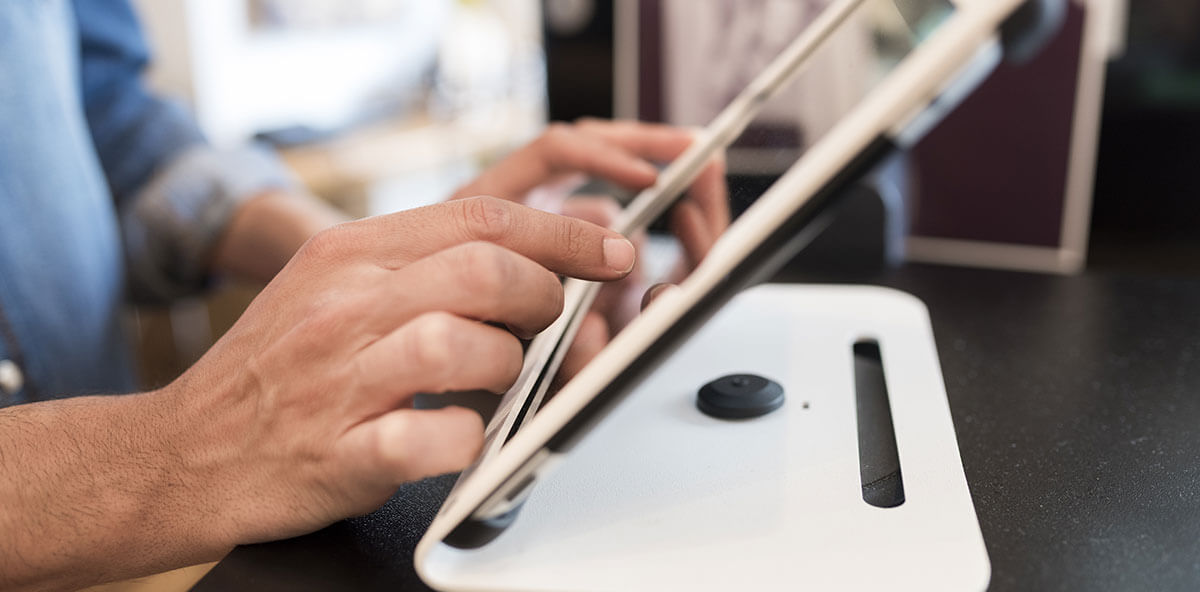 POS History
Although the first cash registers date back to the late 1800s, IBM rolled out the first electronic version with a scanner that could read universal product codes (UPCs) in 1973, around the time magnetic stripe cards were gaining ground. Grocery stores were the first to employ these early POS terminals and paved the way for other retail industries. Accounting accuracy increased, checkout lines sped up and inventory management got easier.
Store credit accounts had been around for decades, with their early roots in credit coins, small metal plates and paper cards to keep track of spending and repayment. The cardboard Diner's Club card became the first widely-adopted credit card that could be used at a variety of stores (in the travel and entertainment industry) in 1950. Bank of America came out with its BankAmericacard, the first general-purpose credit card which, as it became global, took on the name Visa. Pocket-sized plastic cards became the norm, and electronic authorization at the point of sale replaced paper-based authorization methods in the mid-70s.
1992 marked the arrival of the first internet-based POS software for Microsoft Windows, which spurred the development of new programming tools and automation to replace manual processes. The first cloud-based POS solution was introduced in the UK in 2001. It stored data on remote servers, making it accessible online from a variety of locations. Since then, cloud-based POS framework has become prevalent and increasingly powerful. It eliminates the dependency on an on-site server and easily connects with registers and other checkout equipment. Intrusion detection and prevention software constantly updates to compensate for fraud, and level of service continues to increase as labor costs decrease.
Give us a call today to explore a cloud-based payment solution with endless capabilities for your business.