Save When You Accept Purchase Cards
Take advantage of reduced interchange and say goodbye to invoices when you accept B2B and B2G payments.
Does your business sell services or supplies to other businesses or government entities? Do your processing rates reflect that?
They should. Visa, MasterCard, Discover and American Express set variable interchange rates depending on transaction type, with p-cards used for B2B and B2G purchases set at a lower rate than traditional consumer credit card transactions. But not all merchant service providers have the capability to process the enhanced data characteristic of p-cards which warrants that specialized rate.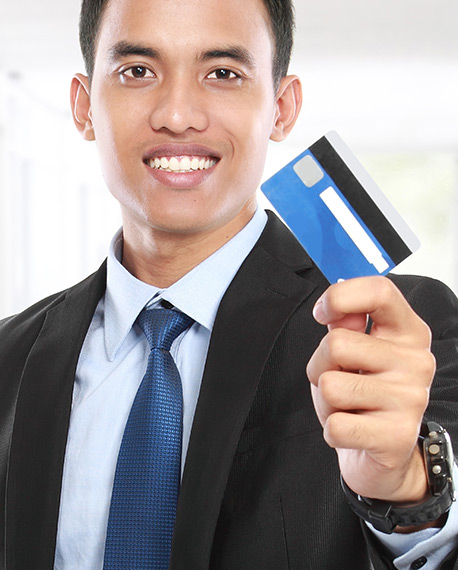 BankCard USA's payment solutions are designed to automatically classify and process level 2 and 3 payments so that you can effortlessly save on interchange—and invoicing—whether your business model is retail, MOTO or ecommerce.
How do P-Cards Work?
Purchase cards, or p-cards, are charge cards issued to employees so that they can make business purchases on behalf of their employer. P-cards are processed through the credit card processing networks and can qualify as level 2 or 3 transactions depending on how much enhanced data, or extra details, they include. Traditional credit card transactions usually provide basic details like the merchant's name, the date and amount of the transaction, and are classified as level 1. The lower the data level, the higher the rate. Since the details for level 1 are minimal, invoices help businesses fill in the extra transaction information for consumer purchases.
P-card transactions go beyond the basics by including so many details that invoices become redundant. The details required for levels 2 and 3 vary depending on the card brand, but generally include some of the following: product description, product code, commodity code, quantity, unit cost, unit of measure, line item total, tax paid and customer reference number. Thus, the transaction record can double as an invoice for each party involved.
Because of the extra details, these transactions are less likely to be fraudulent or result in a chargeback. Since p-cards are strictly used to pay for business needs, rather than consumer luxuries, they carry an even lower chargeback risk, explaining the lower rate.
Read more about commercial card transactions.
Streamline B2B and B2G exchanges with a smart payment solution today.