VERIFONE VX520 CREDIT CARD TERMINAL
Raising the bar in retail.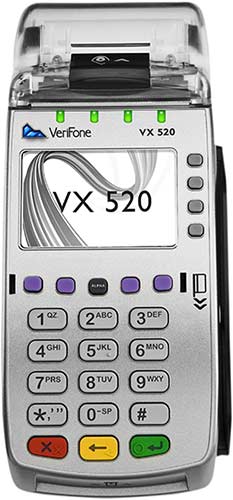 When you're busy running your retail store, having to troubleshoot problems that come up with your payment terminal can be a real setback. The Verifone VX520 keeps payment processing simple and glitch free so that you can focus on your customers. Compact yet powerful, this dual-communication terminal is easy to use and features advanced security technology that updates itself so you don't have to.
Effortlessly accept EMV chip cards and mobile payments like Apple Pay, Samsung Pay and Android Pay. The VX805 PIN pad plugs in seamlessly if you want a customer-facing PIN pad. More of a one trick terminal kind of store? We internally encrypt your VX520 so you can pass it to the customer and accept PIN debit payments that way. Small enough to fit in the palm of your hand at 1.1 pounds, this high-speed terminal is a space-saver at check out.
The VX520 is built to be durable and ergonomic, making it suitable for all retail environments.
Backlit, anti-glare screen and backlit keypad for easy visibility
Works with a dial-up or ethernet connection
Supports apps for loyalty programs or gift cards
Customers can swipe (MSR), dip (EMV), or tap (NFC)
Dimensions: 8" x 3" x 3.4"
Display: 2.6" (128 × 64) monochrome LCD
Expansive memory: 160MB (128MB Flash, 32MB SDRAM)
Processor: 400 MHz, ARM11 32-bit RISC
Thermal printer: 24 lps, Standard: 49mm paper roll, Contactless: 40mm paper roll
VX Evolution software uses the Verix operating system
Certified with the PCI PIN transaction security (PCI PTS) by encrypting PINS with a tamper-resistant security module (TRSM)
Auto-updates without requiring action from the operator
Supports post-authorization tip adjustment and EBT card acceptance