Alcohol Merchant Accounts
BankCard USA provides specialized merchant accounts to alcohol businesses ranging from craft microbreweries to large-scale online liquor distributors.
This merchant account category covers retail and wholesale businesses selling beer, wine or liquor. Some merchant service providers shy away from the alcohol industry because it's heavily regulated, but BankCard USA has proudly partnered with alcohol merchants since 1993, providing credit card processing solutions designed for viability and growth. Accept credit, debit, ACH transfers and gift cards in store, online or over the phone with merchant services custom made for your business type.
In Store Credit Card Processing
We get it—alcohol businesses experience rushes, especially on the weekends, at certain times of the day, and over the holidays. The last thing you want is a complicated, drawn-out payment process that detracts from your customer service and age verification priorities, all while slowing down your line. Even if you sell great products at great prices, if customers can't get in and out of your store quickly, they might just look for another place to shop. Customers are more likely to become regulars when their entire shopping experience is fast and hassle-free—and that's exactly what our in-store credit card processing solutions are designed to facilitate.
The POS systems and standalone terminals we offer are built for practicality, speed and reliability. Accept EMV chip, swipe, and NFC payments like Apple Pay, Samsung Pay and Android Pay swiftly and securely. Use handheld wireless terminals or tablets to take payments from multiple points out on the floor. Or, deck out a solo POS terminal just as you want it. You explain your store's needs, and we get to work finding the right solution. Take advantage of next day funding through your merchant account, low interchange plus pricing with no hidden fees, and a payment system built to last.
Accept Credit Cards Online
Selling alcohol online carries more risk because it's more difficult to verify the buyer's age and each state has different laws. But when your online alcohol business is covered from every angle, we can minimize your processing rates. So we aim to do just that. With each ecommerce alcohol merchant account we set up, we include:
Integration support so that your online payment gateway is connected with your age verification system, accounting platform, CRM solution, shopping cart, inventory tracking system and other third-party applications
Individualized chargeback prevention support
Advanced fraud detection suite with customizable filters and thresholds
Professional guidance in areas such as delivery signature protocols, refund policies and regulation abidance
For more information about the tools and resources your high risk alcohol business needs to thrive online, contact us below. One of our account representatives is happy to answer any questions you have in a zero-obligation free consultation.
Accept Payments over the Phone
Just like ecommerce, taking credit card payments over the phone can be risky with respect to underage sales and other regulations. We offer Address Verification Service (AVS) and Card Verification Value (CVV) for online and MOTO businesses so that you can weed out buyers who are not the real cardholders. Our fraud and chargeback prevention support is aimed at confirming buyers' identities upon delivery so that you don't get hit with excessive customer disputes. We provide virtual terminals merchants can log onto from any internet-enabled device to take phone payments. No downloads or company website necessary—everything you need is delegated to a secure offsite server you can access at any time to key in card information.
Sell on the Go
Mobile applications and a small card reader that attaches to your mobile device, like a smartphone or tablet, are perfect for taking payments on the go. Breweries, vineyards and other businesses that span a large area benefit from a payment solution that uses Wifi and 3G technology to provide the most coverage to accept payments. Convenient for accepting credit cards wherever your business takes you—clients' homes, trade shows, and anywhere between—mobile solutions are pocket-sized yet powerful and offer the ultimate mobility.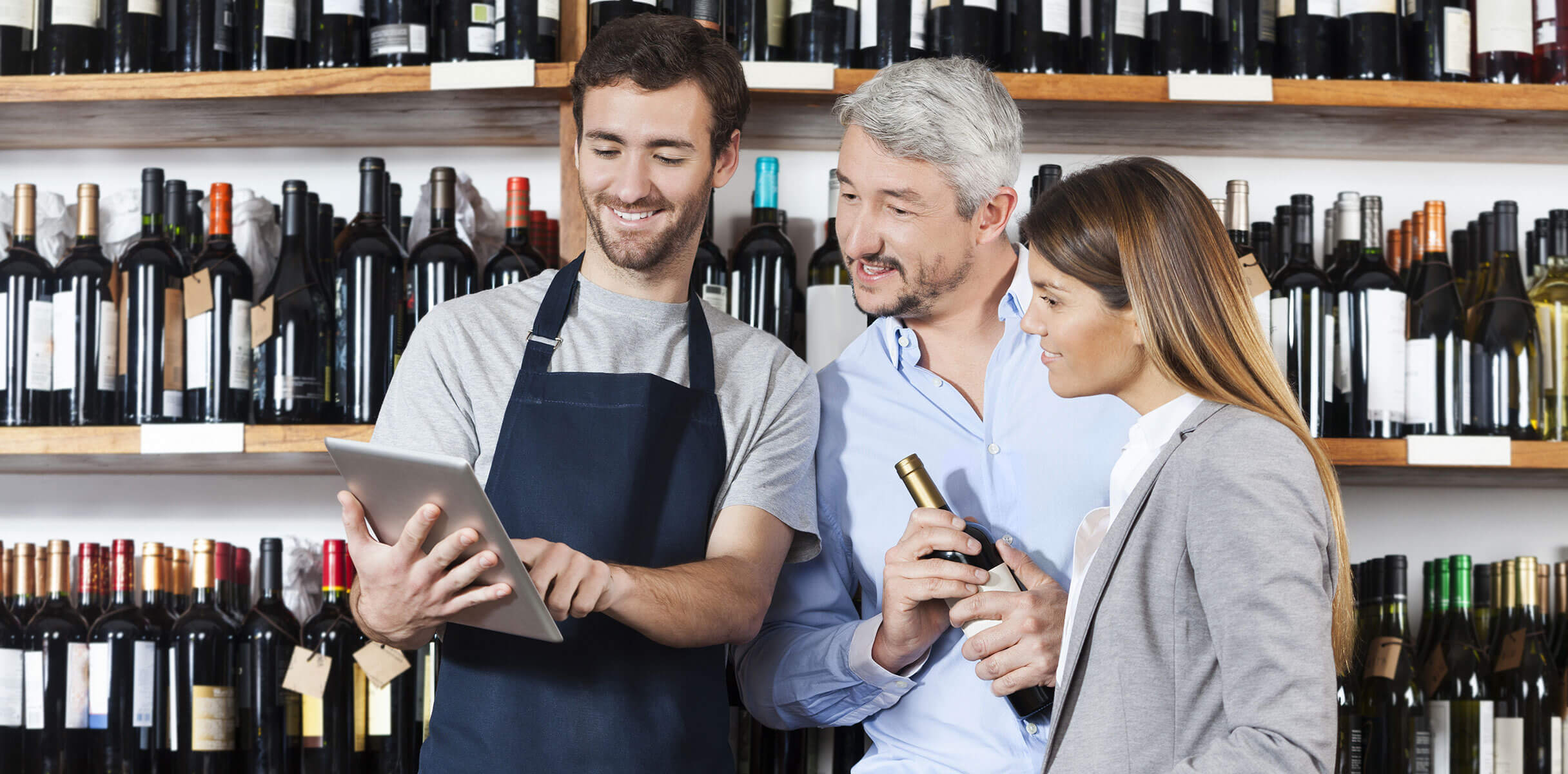 B2B Payment Processing Software
Do you supply alcohol to restaurants, bars, retail stores or other businesses? If the majority of your credit card transactions are business-to-business, you can benefit from B2B credit card processing. The major credit card networks (Visa, MasterCard, Discover, American Express and JCB) offer reduced interchange rates for B2B payments. These level 2 and 3 payments come with extra details, called enhanced data, making them extra secure against chargebacks and fraud. As a result, they are cheaper to process, but only when you have the specialized software needed to pass through the enhanced data. We offer in-store and online B2B payment software that can save your business hundreds to thousands of dollars a month in interchange fees. It's perfect for wholesale alcohol merchants, or any that accept corporate, business or purchase cards on a regular basis.
Offsetting High Risk Factors
The industry's heavy regulation, particularly relating to age restrictions on sales, translate to higher chances of fines, closure, chargebacks and general financial risk for the merchant services provider, who is second in line to cover losses if the merchant can't.
Historically, minors have been able to evade legal age requirements for online purchases. It's important for ecommerce alcohol vendors to implement strict verification systems at order and delivery, such as requiring an adult ID and signature before handing over any packages, and making sure that they match the order information. While individuals are not allowed to mail alcohol through the USPS, private carriers such as UPS and FedEx are allowed to distribute alcohol for retailers, so long as they confirm legal age at delivery. Because this verification is hard to monitor and depends on the discretion of the delivery person, online alcohol sales are considered doubly high risk.
BankCard USA's risk management and underwriting teams have decades of experience managing high risk factors for alcohol businesses and creating merchant accounts designed to meet their needs.
Getting Started
Merchants have to submit an application to the Alcohol and Tobacco Tax and Trade Bureau (TTB) and receive a permit before opening a business in this industry. The TTB is responsible for enforcing the Federal Alcohol Administration (FAA) Act to ensure proper labeling and advertising of products, as well as age requirement controls for sales. Alcoholic Beverage Control (ABC) and other governing bodies further enforce laws on a state level.
Once your business is up to speed with permits, laws and regulations, opening a merchant account starts with simply reaching out. Already processing? In a free consultation, we'll set up a side-by-side comparison of your current processing statement and our proposal to show you, line item by line item, exactly what you can save each month in credit card processing costs when you switch to our merchant services.
Whether you have just established an alcohol business or simply want to improve your current processing services and rates, we can help. Our 25 years of customizing payment processing packages for alcohol merchants have given us a comprehensive understanding of the industry's nuances and challenges, allowing us to provide you with a market-leading payment solution at a below-market rate.
Our credit card processing solutions and merchant accounts include value-added resources:
Insightful online reporting
Automated electronic invoicing tools
PCI compliance walk-throughs, along with vulnerability scanning for ecommerce and IP-connected terminal merchants
End-to-end integration support
Chargeback prevention support
Large variety of retail and wholesale processing equipment and software
Low interchange plus pricing
No hidden fees, no confusion, and no wasted time