Building Customer Loyalty
Integrate a turnkey loyalty program and keep customers coming back. 
Loyalty programs, also known as rewards programs, offer customers incentives to continue shopping or using services of a business. By implementing an effective loyalty program, a business can optimize its existing customer base and attract new customers. Credit card rewards programs treat cardholders to perks for paying their bills on time. Some of the rewards are frequent flyer miles, cash back and annual fee reduction.
Common Program Models
Systematic approaches to customer loyalty have succeeded the early punch card models. Referral programs are popular. They offer customers special discounts, like a percentage off their next purchase, when they introduce new buyers. Memberships are another practical way of building customer loyalty. Businesses can offer deals to customers who buy subscriptions, like a first-period discount, free shipping and access to member-only sales. Other models include: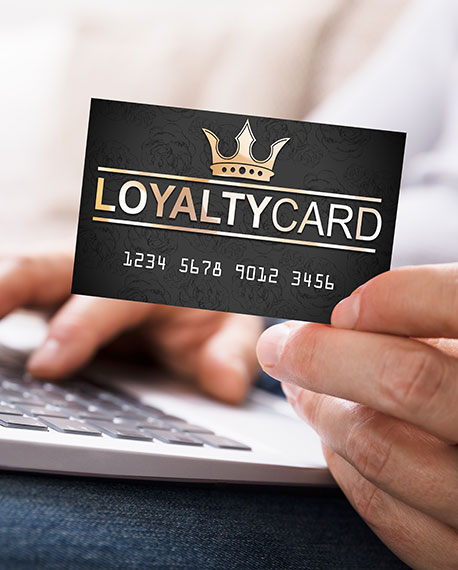 Point systems to creatively customize buyer rewards. For instance, a customer could receive points for making purchases, posting a promotional photo of the product or service on social media, attending an industry fundraiser and on their birthdays. A certain amount of points could then yield a special offer, such as access to a new product before it's released to the public, a free gift or a discounted next purchase.
VIP levels based on how much the customer has spent. Exceeding a certain spending amount could lead to increased rewards. For example, high-spending VIPs could qualify for a BOGO holiday deal that mid-level buyers don't qualify for, but could if they spent a little more money.
Partnering with complementary businesses. A business that offers personal fitness training could offer a discount to customers who also buy a mat at the neighboring yoga studio, and vice versa. The businesses would benefit from the mutual advertising and the customers would save money and be more inclined to refer a friend to both companies.
Promotion is Paramount
A deal for one customer means a profit cut for the business, thus making high-volume offer redemption necessary to build revenue. Advertising is therefore a major element of any loyalty program. Social media networks like Facebook, Instagram and Twitter are lucrative platforms for promotion. Customers advertise when they tag or check in at a business and also learn about discounts, offers and changes by simply scrolling their news feeds.
Similarly, text marketing puts promotions directly into the customer's hands. Customers give permission, usually by checking a box when they buy something or create an account, for the business to send them text messages about discounts, coupons, special events, promotions and other information. This kind of mobile marketing is the most direct, efficient way to communicate with a large pool of customers.
Create and Automate
Loyalty software is the key to managing reward programs efficiently. It can track customer spending habits and manage eligibility for rewards, even if the reward system changes over time. It can also facilitate customer relationship management (CRM) solutions, automated email and text marketing, sales analytics and templates for discounts. Loyalty programs lead to heightened brand awareness and site traffic, both online and in store—and, with the right software, they don't have to cost you extra employee time and resources to manage.