Property Management Merchant Accounts
More and more, property managers are collecting rent via online credit card payments. Maximize efficiency with a fully-integrated electronic payment solution.  
It may seem counterintuitive to accept credit cards when your average ticket size is relatively high. Don't the transaction fees substantially cut into the grand total you bring in each month? In this article we'll explain the benefits of accepting credit cards from the perspective of a property management company, how they can actually save you money, and how to obtain a merchant account with the lowest possible processing rates.
Conserve Resources through Credit-Funded Rent Payments
Collecting rent on time from a large group of tenants is difficult enough. Giving your tenants the convenience of using their preferred payment method increases the chances that they will pay you on time. An online payment gateway can fully integrate with your database to create one centralized resource for you and your tenants. They can pay online, from anywhere—which is especially useful if they're out of town on the due date—and access other resources on your website such as payment history, upcoming due dates, lease terms, community notifications and more.
Even renters with outstanding credit and payment histories can run into cash flow problems at some point or another. If an individual doesn't have enough money in their bank account on the rent due date, but will when they get a paycheck in two weeks, using a credit card allows them to pay you on time. Your cash flow becomes more consistent, you receive funds by the next business day, and you're spared the time and effort it would take to fill the vacancy if missed payments end up forcing that tenant out of the lease agreement.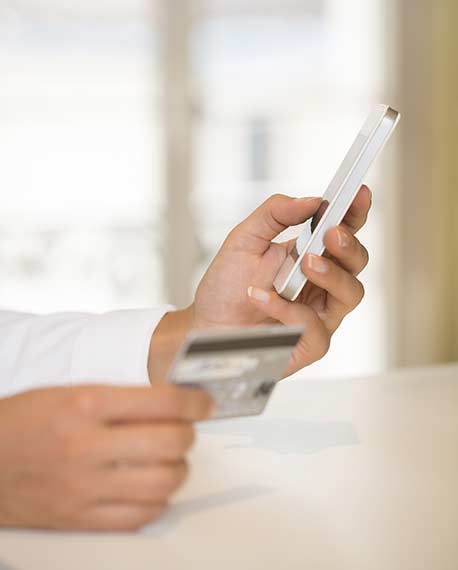 Some landlords incorporate processing fees with the rent payment, so they're essentially not paying for the credit card processing services at all. Tenants usually don't mind paying the little extra because it's less than the fee they'd be charged for late rent or a bad check.
The list of benefits goes on. You don't have to waste time bringing a stack of paper checks to the bank, preparing lengthy deposit slips, waiting for them to clear and dealing with the inevitable few that bounce when customers roll the dice on how long it will take you to process them. A credit card processing solution allows you to convert paper checks into electronic checks, and also accept ACH transfers if customers prefer bank transfers.
In general, an online payment gateway gives you better security because you don't have to worry about check loss or theft. You can devote less staff to rent collection and let your payment system do all the heavy lifting.
On top of all that, perhaps the greatest benefit of accepting rent via credit card payment is the convenience of automated recurring billing for you and your customers' convenience. Recurring billing plans can be set up to accommodate fixed or usage-based pricing, which is great if you need to bundle utilities with rent. They are also easy to adjust and cancel. Cardholders reap the benefits of not having to remember to pay, and effortlessly boosting their credit scores.
Low Rate Guarantee
This industry is considered low risk because it doesn't see fraud and chargebacks as much as other business types. Customers don't typically dispute payments for housing unless they're double billed or experience some other error from the merchant's end and aren't refunded promptly enough or at all. That means your transaction rates are lower than those for high risk business types. On top of that, our low rate guarantee means that we will beat the rate of any verified provider.
BankCard USA offers in-depth integration support for every payment gateway, POS system and terminal we set up, allowing you to customize your merchant service package exactly as you want.
Support a paperless environment
Leading-edge security features and PCI compliance support
B2B enhanced data processing for level II and III payments at specialized low rates
Business-facing and customer-facing dashboards
Inventory tracking and management (pertaining to office supplies, clubhouse wares, etc.)
Accept payments on the spot during a property tour to secure deposits before new tenants move in with a mobile application and smartphone card reader
Next-day funding
Feature-rich POS systems for in-office payment needs
Cloud-based system if your payment system needs to be leveraged from different locations in real time
Accept credit, debit, ACH transfers and even mobile payments like Apple Pay
Customer-friendly electronic invoices with click-to-pay buttons
Automated text and email payment reminders and confirmations
Integration with your accounting software, website plug-ins and hundreds of other compatible applications
When residents can pay the way they want to, they're more likely to become long-term customers in good standing. An electronic payment system seamlessly linked with your database and other software allows you to expand your focus beyond rent collection and onto the other moving parts of your management company. Maximize efficiency and expedite your payment cycle today.