Virtual Terminals For Payments
What is a virtual terminal? How does it work? And do I need one?
A virtual terminal is a secure online form merchants fill in with cardholder information, usually when they receive it from customers paying over the phone. It's the web version of a physical point of sale system. By manually typing credit card information into the fields of a virtual terminal, a business can process card-not-present transactions from any device with internet, from any location with internet. Virtual terminals can process all major credit and debit cards in addition to ACH transfers (echecks).
Service providers securely host virtual terminals and require merchants to log on to accounts to access them rather than install software on their own servers. The benefits of using a virtual terminal are the ability to accept credit cards and ACH transfers anywhere with internet access—using a phone, tablet or computer­—and the shift of sensitive credit card data protection to the service provider, who is responsible for maintaining PCI compliance. Plus, you don't need to spend money on credit card processing equipment. All you need is a browser.
Built-in Features
Our most popular virtual terminal is from Authorize.net. It's a user-friendly, proven option for small to medium sized businesses, and comes with value-added features:
Electronic invoicing via email
Ability to process level 2 and 3 B2B payments
Ability to keep payment info "on file" in the form of a secure token, so you can charge regulars as needed with one click
Customer Information Manager (CIM) tool
Automated recurring billing with convenient account updater tools
Easily processes sales, refunds and voids
Search complete transaction history
Address Verification Service (AVS) and Card Verification Value (CVV) built in for security
Insightful online reporting to show you sales volume and analytics at a glance
BankCard USA is a longtime partner of Authorize.net and has access to reduced pricing for its credit card processing solutions. We also offer a variety of other options to meet any of your merchant account needs.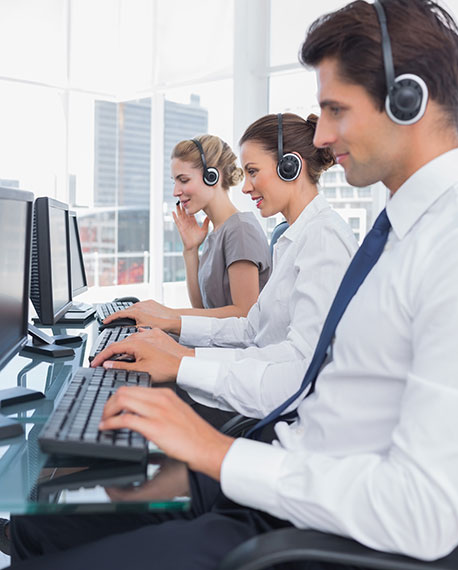 Common Applications
The low-maintenance, secure processing a virtual terminal offers is beneficial to any wholesale or retail business wanting to offer customers more flexibility in payment options. Mail order/telephone order (MOTO) businesses rely on them. Some examples of businesses that commonly use virtual terminals are:
Telemarketers
Any outbound or inbound call center
Home-based businesses
Freelancers
Merchants who travel a lot
Professional services of all kinds
Accept credit cards and ACH transfers from the airport, at a trade show, at your home office or anywhere your business takes you with a versatile virtual terminal. You don't need a company website or a physical storefront to use a virtual terminal, although they are still practical if you do. A virtual terminal is a great backup for your in-store equipment or online payment gateway. You can even add a small card reader to your virtual terminal so that you can process card-present transactions when you have the chance to, and take advantage of the lower interchange rate.
Virtual Terminal vs. Online Payment Gateway
Virtual terminals and online payment gateways are similar but not the same. An online payment gateway is customer-facing and used for ecommerce. It processes credit card transactions online by allowing customers to manually enter their card information on a business's website. The data is encrypted and relayed through the online payment gateway to the merchant bank's payment processor so it can get authorized and settled. A merchant installs and hosts software to set up an online payment gateway on its website. As a result, they are responsible for securing it and must undergo quarterly vulnerability scans of their IP address to comply with PCI standards (BankCard USA schedules these vulnerability scans by a PCI Approved Scanning Vendor for all of our ecommerce merchants, and walks them through remediation of vulnerable areas if the scan comes back negative. This is a complimentary service for all of our merchant accounts).
A virtual terminal is different in that the merchant enters customers' card data, not the customers themselves. The virtual terminal is hosted on a remote server rather than the merchant's. All the merchant needs is a secure internet connection. A merchant can log on to a virtual terminal account and manually enter transaction data provided by customers. PCI compliance is the responsibility of the provider.
Often, virtual terminals and payment gateways are offered by the same provider, like Authorize.net. A merchant can benefit from using both solutions. It allows the customer to decide how they want to pay. No matter how secure your website is, some customers are skeptical of paying online and prefer the personal touch of paying over the phone. This is especially true if they are a regular and have an established relationship with your business. The opposite is also true—some customers prefer entering card information themselves, rather than providing it by phone. So having both options allows you to cater to each unique buyer preference. When you let customers pay the way they want to, they're more likely to pay you on time, and you'll see the revenue gains in your merchant account.
Simple and Secure Payment Processing
Virtual terminals are simple and straightforward to use and manage. While MOTO payments do carry a higher risk of fraud and chargebacks than card-present transactions, we offer the tools and resources you need to keep them at bay. These include AVS, CVV, an advanced fraud detection suite, and professional guidance in areas such as handling billing/shipping address mismatches, customer identity verification, refund policies and MOTO best practices. When your business is covered from every angle, we can give you the lowest processing rates possible. Plus up your merchant account with a virtual terminal today.