Ecig and Vape Merchant Accounts
Coined "The Vape Bank" thanks to our constantly growing portfolio of clients in the electronic cigarette industry, BankCard USA has fine-tuned a solution that brings fair credit card processing rates and high quality merchant services to its retailers.
E-cigarette retailers are considered high risk by financial institutions due to regulatory risks, stigmas and their relatively recent advent. Because of those factors, the industry has been plagued with high transaction rates or outright disapproval from merchant service providers.
BankCard USA offers a solution. We follow safety advancements, are well-versed in the underwriting requirements for e-cigarette merchants and provide industry-specific services to all of its players. That includes hardware, software, technical support and more—all tailored to handle e-cigarette sales:
Payment gateways that seamlessly integrate with your shopping cart and website plugins
Software integration support in areas ranging from accounting (QuickBooks, FreshBooks, Xero and more) and ecommerce platforms (Shopify, WooCommerce, Magento, Volusion and more) to age verification, shopping carts, gift cards and loyalty programs
Virtual terminals for MOTO transactions
Mobile processing apps to accept payments on the go
State-of-the-art countertop POS systems and wireless terminals for processing in store
Ability to accept credit, debit and ACH transfers
PCI compliance fulfillment, including vulnerability scanning for ecommerce and IP-connected terminal merchants
Next-day funding
Insightful online reporting to identify sales trends and guide business decisions
Advanced Fraud Detection Suite to protect your business
Chargeback mitigation support
Merchant lending options
Low rate guarantee—we will beat the rate of any verified provider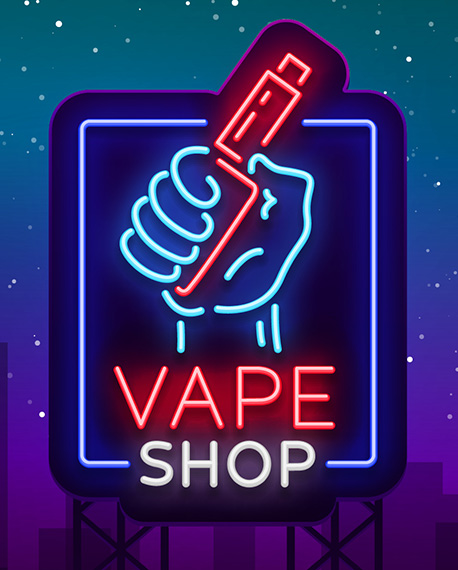 With an ecig merchant account from BankCard USA, you don't have to settle for high transaction rates, hidden monthly fees and subpar equipment and services. The options for customizing your payment solution are endless and the choices are all yours.
Industry History
The vape community has grown tremendously in the past several years. While prototypes and patents of the first e-cigarettes date back to the 1960s, the first successfully commercialized e-cigarette (brand name Ruyan) was launched by Chinese pharmacist Hon Lik in 2003 after his father, a heavy cigarette smoker, reportedly died of lung cancer.
In 2006 e-cigarettes were introduced to Europe and within a year they hit the U.S. market. Since then, technology behind the products has become more advanced, testing and development continues to improve safety standards, and the products have become wildly popular. According to the CDC, there are approximately 9 million vapers in the U.S. who spent about $3.7 billion on vaping and related products in 2017.
Our Stake in the Game
BankCard USA Vice President of Sales Chris Jimenez is extremely experienced in the e-cigarette community. His investment started with an online vape store. In an effort to make a change after encountering the high transaction fees that came with the combination of ecommerce and a high-risk industry as a business owner, he joined BankCard USA and worked to level the playing field for vape entrepreneurs. As a champion for the industry, he helped reverse banks' and legislators' misconceptions about it by co-founding the California Smoke Free Organization. The non-profit trade group's mission is:
"To keep the vapor markets competitive for both small and big players, to ensure the long-term viability of the industry, to defeat bills that stifle innovation critical to public health, and to transform the public debate on electronic cigarettes aka vapor products. Additionally, to influence the language of new bills while in formation forging new relationships with elected officials in California."
Tap into the growing market today by applying for a merchant account that maximizes your profits, streamlines your sales and adds value to your vape business. We partner with startups and existing businesses, small or large, retail or online. During a free consultation, we offer a side by side comparison of your current processing statement and ours to show you exactly what you can save each month.