Restaurant Merchant Accounts
BankCard USA works closely with restaurateurs so that they can focus on excellent guest experiences instead of a complicated payment process. Customize your POS system a la carte.
Restaurants that accept tips make up their own merchant account category due to their unique requirements. If they don't accept tips, they fall into the broader retail category. Restaurants' risk for chargebacks and returns is also relatively low.
Patrons want to pay their tabs quickly, easily and safely—and our payment systems are designed to do just that. We offer intuitive countertop POS systems, online payment gateways and wireless tablet solutions that allow patrons to pay directly from the table, adding convenience and peace of mind.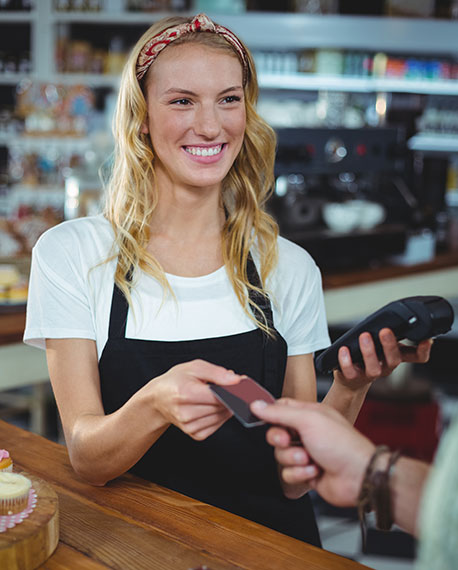 Our restaurant payment solutions have a variety of industry-specific features and capabilities to:
Split tabs
Customize receipts
Add gratuity with credit and debit cards
Synchronize with other restaurant programs
Emphasize Payment Card Industry (PCI) compliance, with added focus on detecting and preventing internal security breaches, as well as those attempted externally
Secure sensitive data through tokenization and point-to-point encryption (P2PE), along with transaction filters, to fight fraud for online orders
Gift card and loyalty program integration support
Customer management insights, including a secure customer database showing order history, previous delivery addresses, preferences, dietary restrictions (like allergies) and more
Inventory control with alerts for accurately reordering stock and supplies
B2B enhanced data processing that saves money making payments to suppliers
Employee hours management and scheduling tools
Quick Service Restaurant (QSR) accommodations
Ability to accept mobile payments
Cloud-based POS terminals are practical investments for restaurants, particularly chains. Instead of maxing out storage on an onsite server, they can delegate their entire system to a vendor-supplied offsite network of servers and allow authorized users to access it from any internet-enabled device. All transaction and database input from different locations applies to the cloud-based system in real time, and cutting-edge security protocols keep sensitive data safe.
From food trucks to fine dining establishments, we can customize an efficient, feature-rich and time-saving payment processing solution that allows you to serve more satisfied customers.