Restaurant Merchant Accounts
BankCard USA works closely with restaurateurs so that they can focus on excellent guest experiences instead of a complicated payment process. Customize your credit card processing solution a la carte.
Restaurants, bars and quick service establishments have a unique set of requirements when it comes to merchant services. They need credit card processing solutions that are reliable, easy to use and efficient to keep up with fast paced, customer-centric environments. Since profit margins tend to be lower than other industries, we understand that merchant account costs for a restaurant must reflect that.
Here are a few reasons why we can minimize your processing costs and max out your profit margins:
Restaurants' risk of chargebacks is relatively low, translating to lower processing costs
We offer B2B level 2 and 3 processing at a reduced interchange rate so you can save money when you stock the shelves
All of our equipment is EMV compliant to keep fraud at bay
All of our payment solutions are PCI compliant. We also walk you through the annual PCI Self-Assessment Questionnaire (SAQ) to ensure your operations are up to date with security best practices. This further reduces your risk of fraud losses.
We customize payment solutions so you pay for no more or less than exactly what you need
We offer integration support so that your credit card processing system works seamlessly with other applications, including those for inventory, accounting and CRM, freeing up your and your employees' valuable time to focus on diners
There are no hidden fees
Simplicity, Security and Convenience
Patrons want to pay their tabs quickly, easily and safely—and our payment systems are designed to do just that. We offer intuitive countertop POS systems, standalone terminals, and wireless solutions that allow patrons to pay at the table, adding convenience and peace of mind. If you also want to accept payments online for takeout, catering, products and other services, we offer online payment gateways so customers can pay on your website or pay for an order over the phone. Mobile processing solutions are another practical option if you're selling off-site.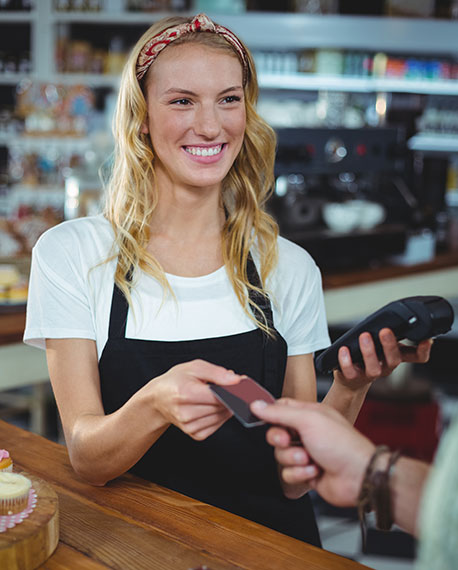 With a restaurant credit card processing solution and merchant account from BankCard USA, you get more than a way to accept credit cards. You get an efficient hub around which your business can run smoothly.
Split tabs
Preauthorize cards to open bar tabs
Tip adjustment tools
Customizable receipts
Synchronize with restaurant apps
Next-day funding through your merchant account
Record cash sales
Integrate with gift cards and other loyalty programs
Integrate with CRM solutions, so you can save order histories, delivery addresses, preferences, dietary restrictions and more
Track inventory with alerts for reordering supplies
Manage employee timesheets and payroll
Interactive menu and self-service options depending on your needs
Durable equipment that's spill proof and built to last
Accounting reconciliation
Interchange plus pricing so your processing costs are low and predictable
Analytic online reports for enhanced business intelligence
Accept all major credit and debit cards
Allow customers to dip (EMV chip), swipe (MSR) or tap (NFC)
Restaurants that accept tips make up their own merchant account category due to their unique requirements. If you don't accept tips, check out our options for retail businesses.
Cloud Based Options
Cloud-based POS terminals are practical investments for restaurants, particularly chains. Instead of maxing out storage on an onsite server, you can delegate your entire system to a vendor-supplied offsite network of servers and allow authorized users to access it from any internet-enabled device. All transaction and database input from different locations applies to the cloud-based system in real time, and cutting-edge security technology keeps sensitive data safe. Our most popular cloud-based restaurant solutions are Clover's POS products. They are perfect for any business, chain or not, that wants some serious POS functionality.
Enhance the Payment Experience
On top of exceptional food, customers value top-notch customer service. That includes the payment experience. Turn first-time diners into regulars with an end-to-end dining experience that's efficient and modernized. From food trucks to fine dining establishments, we can customize a feature-rich payment processing solution that allows you to serve more satisfied customers.
Already processing? In a free consultation, we'll show you exactly what you can save each month with a side-by-side comparison of your current processing statement and what ours would look like. Not accepting credit cards yet? We'll walk you through every step of the application process, answer any questions you may have, and set you up with a time and money-saving credit card processing system to get your food and beverage establishment processing on the right foot. No hidden fees, no confusion and no wasted time.