Beauty & Salon Merchant Accounts
Personal care and beauty services never go out of style—but their POS systems can. Market-leading payment solutions will help your business compete and thrive.
Hair salons, nail salons, spas and professional beauticians make up a distinct niche in merchant services and require payment solutions that are not only highly efficient, but also as aesthetically pleasing as their surroundings. The most common system is an in-store POS terminal with minimal hardware for a sleek appearance, but an array of useful software: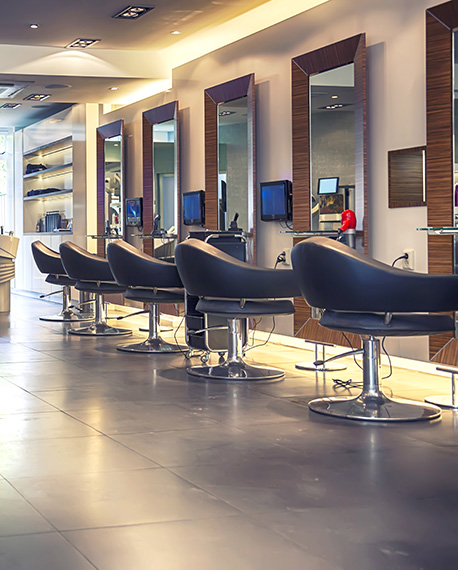 Customer management tools that recognize regular customers, track their preferences and personalize offers
Easy-to-use appointment logs to manage one-time and repeat bookings
Automated text or email appointment reminders
Gift card and loyalty program integration
Tip adjustment tools that allow customers to add gratuity with their credit or debit cards
Automated reconciliation of operations and accounting. POS systems can be programmed to designate a set percentage of each payment and tip to individual stylists and the shop owner depending on their arrangement, in addition to managing booth rentals and other expenses.
Cloud-based computing options, which are cost-efficient, easy to set up and allow stylists to access company data from any internet-enabled device (especially useful for chains)
Integration with QuickBooks, FreshBooks and other applications
Inventory tracking
Online reporting
Next-day funding
If the salon or stylist has a website, an online payment gateway can easily merge with an in-store POS system for purposes like setting appointments, advertising and selling products in different locations—all through a real-time connection. Home-based and traveling stylists also benefit from a mobile processing application that can accept mobile, keyed in, swiped or EMV transactions. Swiped and EMV transactions require a small card reader that attaches to a smartphone.
The Long and Short of it
Despite the payment method, the goals for beauty industry payment systems are speedy checkouts, automated tip and check-splitting tools, aesthetics, convenience and CRM capabilities that keep customers coming back. The industry poses moderate chargeback risks due to the chances of customer remorse or dissatisfaction, particularly when large transactions are made (for example, high-stakes services that involve more than one person—like hair styling for a wedding party). Because of the creative and subjective nature of the industry, it's important to communicate with guests, manage their expectations, have a clear refund policy and offer remedial services when necessary to avoid chargebacks.
Contact us today to learn more about how we can help your beauty business flourish.
We also offer credit card processing services for businesses selling cosmetics, skin care products and supplements/nutraceuticals.