Home Repair Merchant Accounts
Support sustainable growth with cutting-edge payment technology.
Home and repair service merchants working in landscape, construction, maintenance or similar fields require payment systems that are durable, reliable and convenient for travel. There are many different elements that benefit merchants in this industry: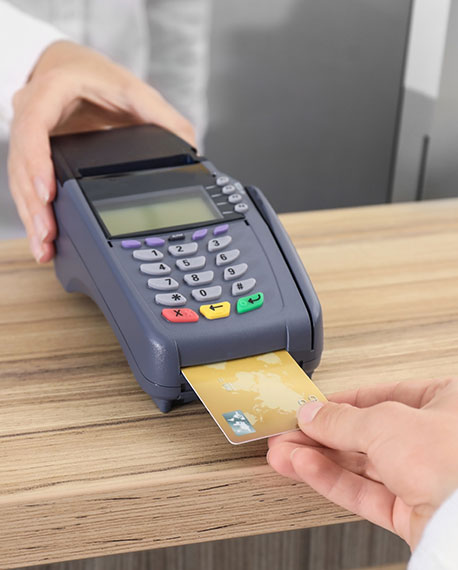 Mobile processing application and smartphone card reader to accept payments on the go
Portable wireless terminals
Virtual terminals to accept MOTO payments
Online payment gateways we can integrate with your current website features
Accept debit, credit, eChecks, mobile payments and gift cards
Integration with hundreds of applications in areas ranging from accounting (QuickBooks, FreshBooks and more) to marketing, crew management and appointment setting
Insightful online reporting that helps guide smart business decisions
Application integration that allows you to manage your field crew by tracking the amount of time employees spend at each location and then automatically send clients invoices with click-to-pay buttons
Tip adjustment tools that allow customers to tip with their debit or credit cards
Signature capture devices and receipt printers (along with customizable receipt options)
Automated recurring billing if you want to set up monthly payment plans for continuous services
Temporary account freezing for up to six months with a no-hassle reopening if your business is seasonal
Next-day funding so you get paid faster
PCI compliance fulfillment
Our chargeback mitigation program helps reduce high risk factors that are common for home and repair businesses. Sometimes, clients try to dispute payments by claiming the service they received was not as described. Because of the subjective, and at times creative, nature of the job you're doing, chargebacks can become a concern. We also offer professional advice regarding customer expectation management, remedial service policies and more to keep your business running as smoothly as possible.
We can help you choose the right features for your business—and reduce costs by excluding any excess ones. Say goodbye to bounced checks and late payments by integrating a credit card processing system that drives your business to new heights today. With a home and repair merchant account from BankCard USA, you don't have to settle for high transaction rates, hidden fees and outdated, bulky equipment that slows you down. In fact, our low rate guarantee ensures that we're giving you the lowest rate of any verified provider.