Jewelry Merchant Accounts
Build your business on a rock solid payment solution.
BankCard USA regularly underwrites merchant accounts for retail, MOTO and ecommerce jewelry businesses. Jewelry includes watches and all kinds of adornments, usually made of precious stones, alloys or a semblance of them. We serve fine and cosmetic jewelers offering vintage, used, new and/or made-to-order products.
Retail jewelry businesses don't usually have a line of customers spilling out the door. They are typically low-volume businesses that profit from high-priced items. Online jewelers, since they have lower overhead costs, sometimes experience the opposite: more customers are turning to websites to purchase jewelry at a lower cost than it's offered in store, leading to a higher sales volume. Sometimes, customers are shopping for a once-in-a-lifetime engagement ring. Others might just want something affordable to wear out. Jewelry is a luxury, rather than a need-based, product, and it's also a popular gift, so returns are relatively common compared to other retail industries.
High risk factors from the perspective of financial institutions include:
Buyer's remorse
Prevalence of counterfeit products
High tickets
Fraud
For all of these reasons, merchant service providers (MSPs) estimate high potential financial loss when they measure the risk of partnering with jewelry and precious stone businesses. If the business experiences fraud or excessive chargebacks and is unable to pay for those losses, the payment liability defaults to the MSP.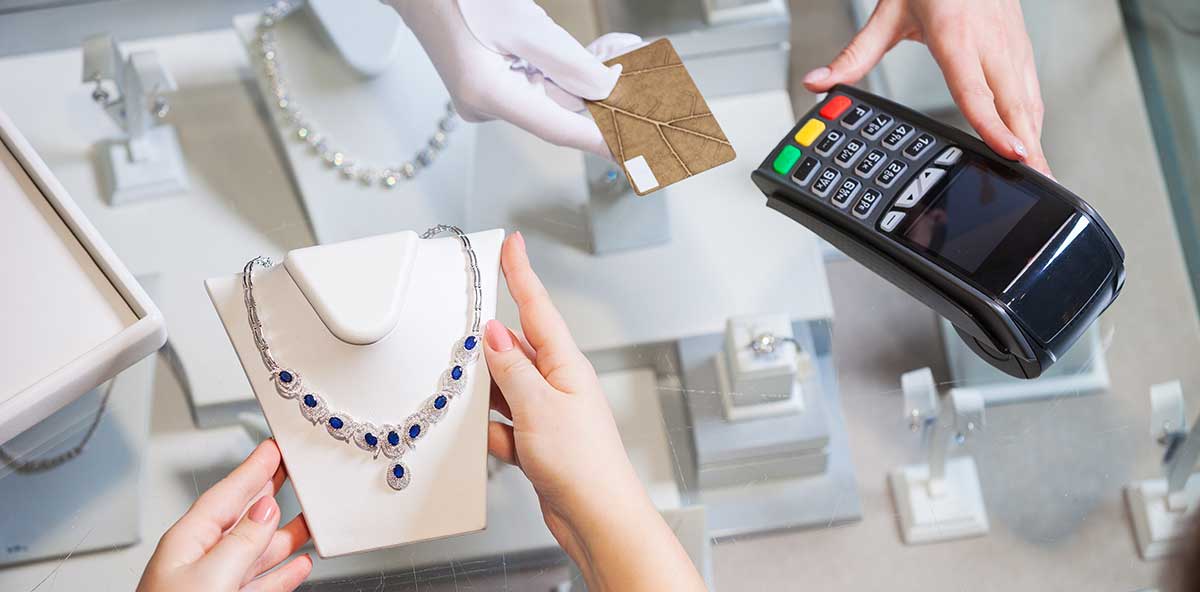 That's why many MSPs decline jewelry merchant account applications. But it's not impossible to find quality merchant services at an affordable rate. In fact, we've maintained longstanding relationships with hundreds of jewelry merchants by designing accounts with the right set of tools and professional guidance in specific areas such as:
Chargeback prevention
Effective advertising methods
Proper return policy verbiage
Merchant lending options
Analyzing online reports
Optimizing payment system features to foster sustainability and growth
Understanding the nuances and complexities of the industry has been the key to serving its merchants with the right kind of payment systems they need to thrive.
We offer:
Competitive rates that won't cut into your large sales. We also offer free consultations. We'll compare your current processing statement side by side with our proposal, and show you exactly what you can save.
Feature-rich point-of-sale equipment and mobile processing options backed by the latest data security technology, such as the Clover suite of POS products
Payment gateways for online stores
Ability to accept credit, debit, gift card, eCheck and other ACH payments
Monthly sales reports to guide smart business decisions
PCI compliance support, including free vulnerability scanning
Accounting app integration support (QuickBooks, FreshBooks and more)
Ecommerce platform integration support (WooCommerce, Magento, Volusion and more)
Shopping cart integration
Automated recurring billing for long-term payment plans
Specialized features for extended warranty business models
From the time BankCard USA was founded, we've watched annual retail jewelry sales nearly double, from $16.4 billion in 1993 to over $31 billion in 2016 (Statista). With the proper business model and payment solution, it's a lucrative industry. From fine custom craft to cosmetic jewelers, retail to online, or a combination of both, we will tailor a payment processing system to suit your business's unique needs.