Healthcare Merchant Accounts
We develop innovative, user-friendly payment processing solutions that will maximize your time with patients.
Our healthcare merchant accounts are designed to meet the needs of medical offices ranging from busy hospitals, ambulance services and pharmacies to one-nurse private practices, dermatologists and other specialty providers. Considering the unique demands of this industry, integrating your payment system with existing databases and third-party applications is a top priority for us. Our objective is to create one comprehensive solution that's not only efficient and easy to use, but exceptionally secure to protect sensitive data.
Our services extend beyond basic credit card processing, allowing your practice to:
Process healthcare payment cards in conjunction with your SIG-IS IIAS (for pharmacies and applicable retailers)
Amp up security of sensitive patient medical records concurrently with payment information
Support high-volume and high-ticket sales
Prevent and manage chargebacks with the help of our in-house Chargeback Team
Facilitate recurring billing plans
Process B2B enhanced data transactions at specialized low interchange rates
Improve cash flow with next-day funding
Integrate with third-party applications (e.g. QuickBooks, FreshBooks and more) to create one efficient, interconnected system
Accept mobile payments like Apple Pay to speed up your line and appeal to the younger demographic
Help patients stay on top of payment schedules through engagement platforms and automated text/email updates and reminders
Fulfill PCI compliance and seal your business from fraud attempts
Access insightful online reports to identify sales trends and guide smart business decisions
Integrate your online database and payment gateway with virtual care options (read more about our telemedicine merchant accounts)
Take advantage of our low rate guarantee to maximize your profits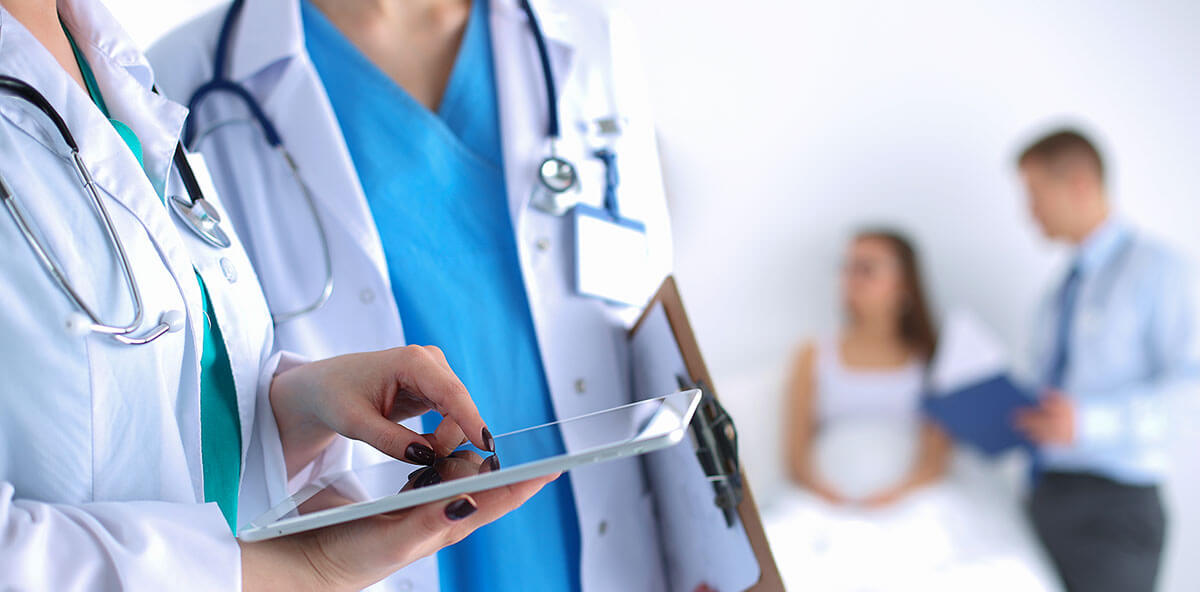 Economic Overview
The Organization for Economic Cooperation and Development (OECD) estimates that the U.S. spends 17.2% of its annual GDP on healthcare costs, the highest of any nation, and a percentage that has consistently been increasing. Additionally, the U.S. Center for Medicare and Medicaid Services (CMS) estimates that total U.S. healthcare spending will increase by 5.8% between 2018 and 2025—a faster growth rate than that of the national economy as a whole.
Individual spending on annual healthcare costs continues to rise in parallel fashion, according to the OECD, with an average annual spending of $9,892 per person in 2017—again, far higher than per-capita healthcare spending in all other countries. Despite off-the-charts spending adding up to trillions for both the government and individuals, many people still lack access to healthcare, and the industry faces many challenges.
Fraud Risk
We acknowledge fraud risks for healthcare professionals and take preventative measures to fight them, which has also been an industry-wide priority in recent years. In 2016, The Department of Health and Human Services, along with state and federal law enforcement, took part in the National Healthcare Fraud Takedown, the largest medical insurance fraud takedown in history, involving about $900 million in false billings to Medicare and Medicaid. Our chargeback screening and prevention tools will help you continue to keep fraudulent transactions at bay.
As rules of thumb, it's important for physicians to keep signed receipts of payments, as well as signed treatment plans as documented proof that clients have approved the cost of any treatment that occurs over time, and provide a clear refund policy. Services rendered by plastic surgeons and other subjective treatments are especially vulnerable to chargeback risks. You can read more about how to customize fraud detection techniques of your payment gateway's Advanced Fraud Detection Suite (AFDS) here.
Propelled by Technology
More options are becoming available to patients that save time and money, such as virtual care. According to Modern Healthcare, about 78% of consumers say they would be interested in receiving virtual healthcare, but only 1 in 5 has had that opportunity. Virtual aftercare and consultations are projected to grow in popularity. In addition to video visits, wearable monitoring devices increasingly allow doctors to see and treat patients remotely.
Our industry expertise and experience helps us anticipate the needs of your business and deliver the highest quality products and services to meet them, whether your practice is large or small, face-to-face or online (or both). In addition to medical professionals, we serve a broad range of ancillary businesses including the medical equipment engineers, manufacturers and retailers that are responsible for the modern, technology-based implementations that advance our medical community.
Accept all forms of payments, from echecks to commercial credit cards, from any location and enhance your business with our POS systems, wireless terminals, mobile applications and online payment gateways to create one comprehensive payment platform for your customers. Increase functionality and cash flow while reducing your receivables and paperwork today.
We'll meet you at the cutting edge of innovation.