Mobile Wallets and Merchant Accounts
Apple Pay and other mobile wallets give convenience and efficiency new meaning.
Mobile wallets like Apple Pay, Android Pay and Samsung Pay allow users to make one-step payments with virtual versions of their payment cards. They're called contactless payments because they bypass physical contact between payment card and Point-of-Sale (POS) terminal, and instead get transaction data from the former to the latter through near-field communication (NFC). NFC powers POS terminals to create an electromagnetic radio field with other NFC-compatible devices, such as smartphones. The radio field makes a safe channel for close-range contactless payments.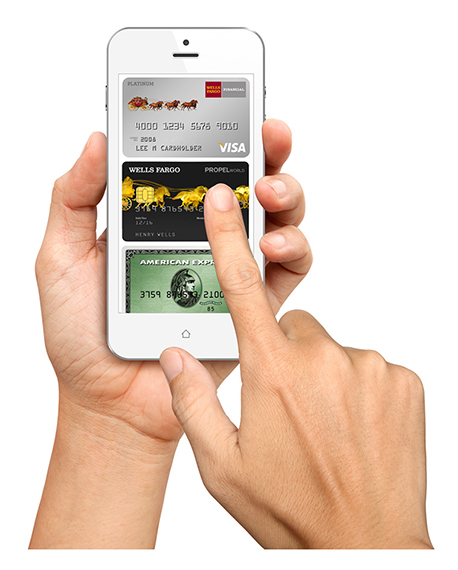 Is Apple Pay Secure?
When an individual uploads his or her payment card information to a mobile wallet like Apple Pay, it's instantly tokenized and stored on the secure element of the iPhone (6 or newer), called the NFC chip. The payer can use his or her iPhone to make payments with one fluid motion by simply waving the device over NFC-enabled POS systems. Biometric authentication is required to ensure the customer is the real cardholder before a payment is authorized. iPhones can use fingerprint IDs or facial recognition features for this authentication. The card information is never stored on Apple's servers, on the smartphone or on the merchants' databases; a random token substitutes the sensitive data until it reaches the payment processor.
Through "tap-and-go" payments, these device-based digital wallets offer customers the most convenience of any payment method while shopping. Because of their security measures—biometric IDs, NFC and tokenization—mobile wallet payments are even safer than traditional card-present transactions. They produce unique transaction codes that can't be used again if they fall into the wrong hands. In contrast, magnetic stripe data is static and replicable. Apple Pay works to make payments on any mobile application or website that has integrated the Apple Pay application programming interface (API) and can be used on Macs (newer models with touch bars), iPads and Apple Watches.
How do I Accept Mobile Payments?
For a merchant to take advantage of the many benefits of accepting mobile payments, the only major cost is buying and installing a contactless payment terminal. Fraud damages are still covered by the credit card companies, not the merchant or customer. Mobile payments are fast and convenient, allowing a merchant to serve long lines of customers quickly by cutting down on the time it takes to handle and process magnetic stripe cards, EMV chip cards and cash. When returns are necessary for mobile wallet purchases, the merchant can use the receipt and device account number to find the purchase and process the return in the same way it would with a debit or credit card.
With the rise in popularity of Apple Pay users, a payment system to accommodate them is an investment that's paying off exponentially for businesses as time goes on. Before launching Apple Pay in October 2014, Apple fortified the venture by getting more than 220,000 merchants on board to accept it, including some big brand names like Whole Foods and Staples. Today, millions of stores have installed contactless payment-enabled POS terminals and online payment gateways, including: